New York City's Latest Crop Of Luxury Residential Developments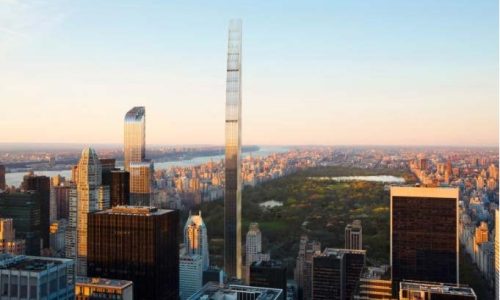 111 West 57th Street
21 February 2019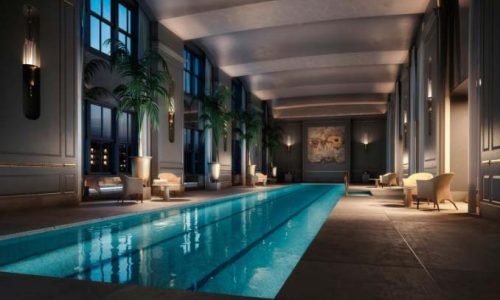 111 West 57th Street
21 February 2019
Scheduled to top out in April, this residential tower is designed by ShoP Architects. The building holds just 46 apartments, that occupy full floors and feature duplex across two floors. The tower integrates the historic Steinway Hall, originally built in 1925 by Warren & Wetmore, into its design. The facade references the craftsmanship of New York City's classic skyscrapers with a terra-cotta and bronze filigree cladding on the east and west facades and a bronze-framed glass curtain wall along the north and south facades.
Residents' amenties include a lap pool, pictured here, as well as a private porte cochère entrance on 58th Street, spa with sauna, steam and treatment rooms, lounge with expansive outdoor terrace, private dining room, chef's catering kitchen, triple-height fitness center, meeting rooms and study.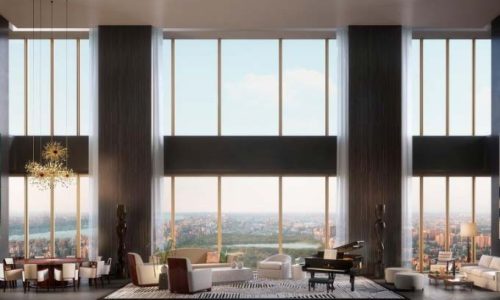 111 West 57th Street
21 February 2019
Studio Sofield has designed the interiors to reflect the grandeur and classical style of New York's early twentieth century architecture. The apartments feature 'Great Rooms' with ceiling heights of 14ft and floorto-ceiling windows. Materials used include white macauba stone floors, patterned solid oak floors in a smoke grey finish, and wet bars in bitlis marble. Kitchens are available in dark or light hand-rubbed plaster or chateau gray oak finishes.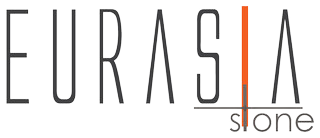 We pride ourselves on our attention to detail and commitment to customer satisfaction.We understand that your home is a reflection of your personality, and we strive to create a space that truly embodies your dreams and aspirations.