Bennett Leifer's New Apartment in One Hundred Barclay Is Proof That the Days of Boring Model Units Are Over
Gone are the days of boring beige model apartments: Over the past few years, top developers have turned to elite designers to outfit model units in New York's most prestigious buildings. There was Kelly Behun's art-filled aerie in Rafael Viñoly's towering 432 Park, then Brad Ford's "living showroom" at Shigeru Ban's Cast Iron House, Matter's hip apartment in Brooklyn's The Standish, and many, many more. The latest example? Designer Bennett Leifer's apartment on the 13th floor of One Hundred Barclay, the storied Lower Manhattan tower (which also boasts a penthouse outfitted by Ford and the neighborhood's largest amenities space at over 40,000 square feet). A colorful expression of Leifer's cheerful style, the space bucks the notion of a model unit needing to serve as a sort of blank canvas for prospective buyers.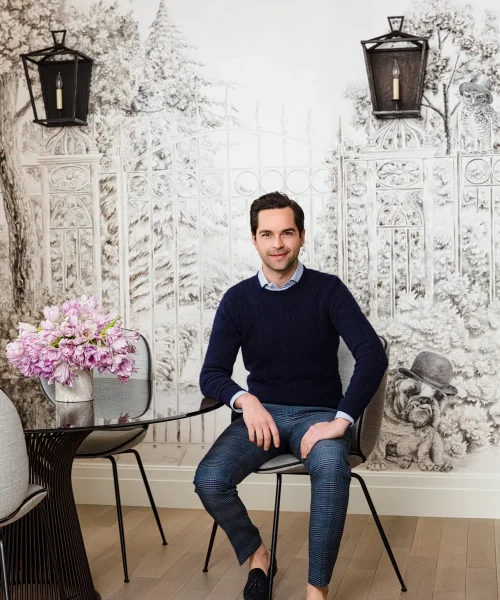 As Leifer sees it, the arrangement is a win-win. "These top-tier developers have such a high level of buyer that they want to see things that relate to how they want to live," the designer explains. "How can they emphasize the great layers of the room? From my experience, it's been about creating a branding moment."
That "moment" involves showing off the space, of course, but also touting a lifestyle—that which the type of buyer who would hire a top designer would have. It's also a smart way to present the space in ways a developer (or stager) might not have imagined. "A great designer sees what other people call challenges as opportunities," Leifer says. "What I think developers gain from working with designers over stagers is that they can accentuate parts of the building that others wouldn't necessarily see as highlights. For example, at One Hundred Barclay, there's that little office area and that was initially a kind of overlooked alcove, but when we walked through I said, 'Thats a whole overlooked room.'"
Of course, as you read this, you've likely realized one other obvious advantage to developers hiring designers: press. Giving designers free rein to create inspiring apartments turns an otherwise transactional space into one ripe for coverage. In the instance of One Hundred Barclay, this benefit was even more pronounced, since Leifer's design was a collaboration with Domino magazine and its new venture, Domino Residence, which pairs designers with model apartments in exchange for coverage in the magazine or online.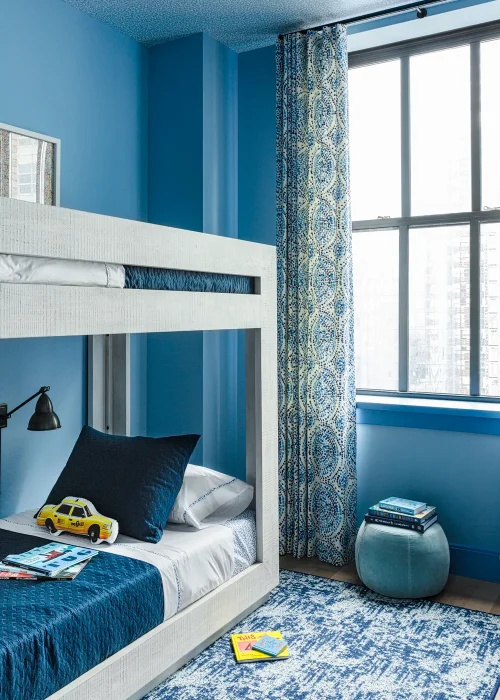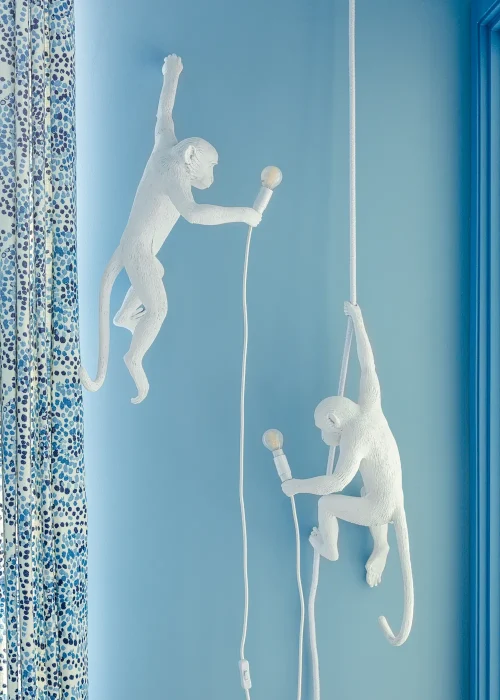 Monkey lights in the kids' room sourced from Lightology. "We wanted fun sculptural aspects that would be unexpected," Leifer explains. "If you're working on a low budget and short time frame, there's the potential to see all the same things repeated, so you really have to challenge yourself to find unique things."
"*Domino'*s role is equal parts tastemaker, agent, and, ultimately, publisher," says Beth Brenner, chief revenue officer of Domino Media Group. "Working with the developer (in this case, Magnum Real Estate Group and CIM Group), Domino matches the project and prospective buyer profile with an interior designer and manages the project from 'match' to installation."
"Keeping the editorial end product in mind helps me express myself in a fuller way," Leifer says. The promise of editorial coverage also opens another exciting door for designers: spotlighting their favorite sources. "The other great thing is what it does for the vendors," Leifer says. "For example, I work a lot with de Gournay—that's not necessarily a brand developers work with, but we got to create a panel for this space." In addition, Leifer dotted the space with art from Art Star (founded by his friend Chrissy Crawford), accessories sourced from his favorite small stores, and textiles from Schumacher, where his partner, Benni Frowein, is president.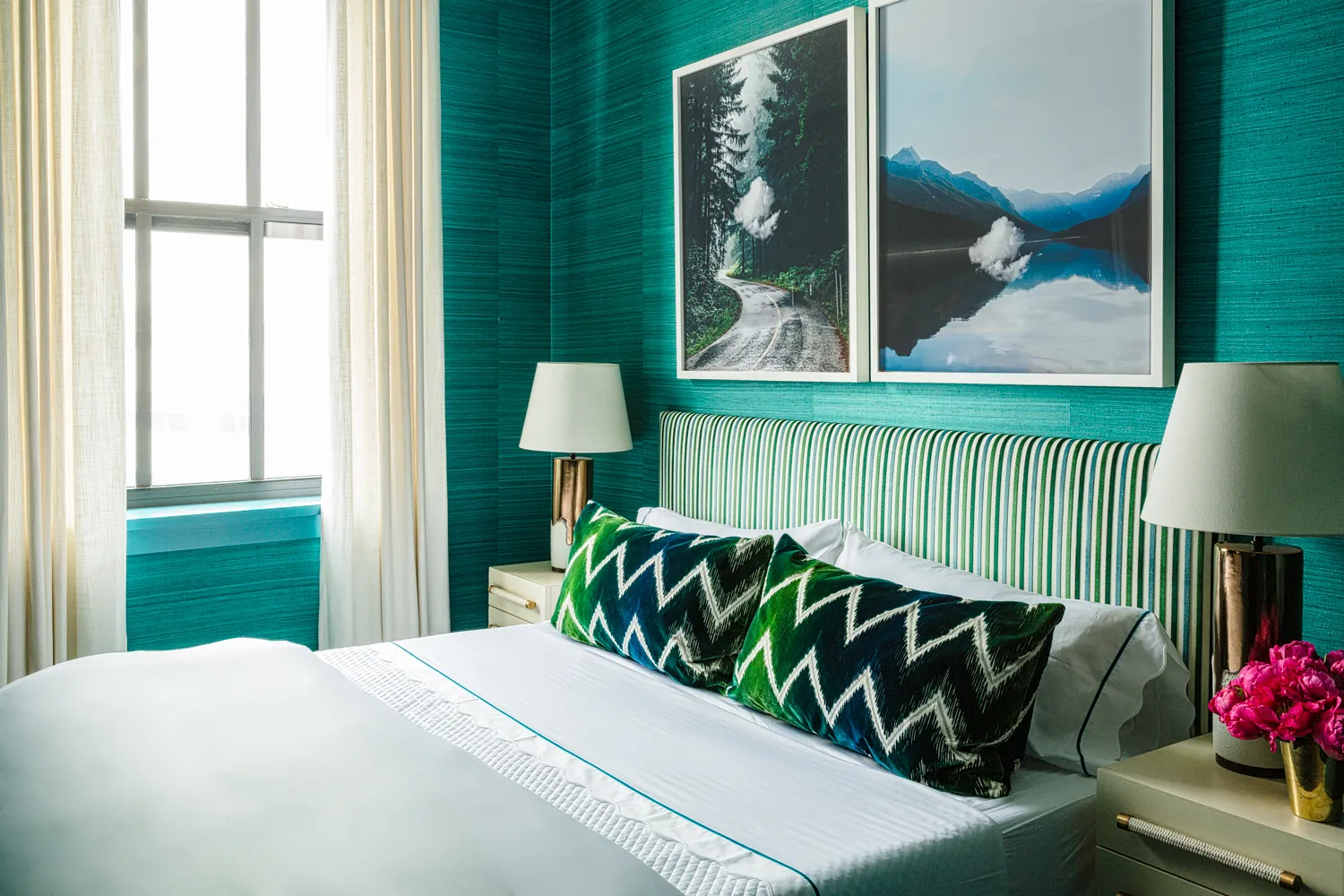 "I'm really proud of the Schumacher aspect," Leifer says. My partner and I are always trying to come up with ways to work together, so this is a great example of starting from scratch without the limitations of client approval."
The results are a perfect blend of Leifer's personal style and a reflection of the apartment's setting. "The views wrap all around Manhattan," Leifer explains. "I'm know for my use of color, so I wanted to bring the outside in while making a statement with color. So I tried to abstract and unify what I saw out the window; the parks, the sunsets, the architectural details, that's where I drew my inspiration."
All told, the designer feels it's as apt an expression of his style as any project. "It gives me more artistic freedom in the sense that the team I worked with is more open to ideas, and if you can present them in a logical way, that's exciting," he says. "What limits you is that you still have to appeal to a broad range of people, but that's not a limitation that's hard to work with."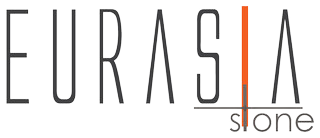 We pride ourselves on our attention to detail and commitment to customer satisfaction.We understand that your home is a reflection of your personality, and we strive to create a space that truly embodies your dreams and aspirations.